New Breathing Circle in South Devon
UPDATE: The South Devon Breathing Circle is not currently active.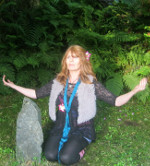 Amanda Shell-Phillips is starting a new circle near Kingsbridge in South Devon.
Amanda creates a safe space in which to meet, share, unravel and release that which we are ready to let go of and welcome pure positive creative energy. This cleanses the emotional body, allowing space for higher vibration energy. Each session we set a personal positive intention for that which we wish to call into our life to support, becoming all that we are. We may invite nature spirits to support our work and during the warmer months, we may choose to breathe outside in a magickal garden close to a purifying fire - welcoming the elemental realms to bless and support our healing. Amanda has worked in the field of holistic therapy for over 25yrs and is committed to personal and global transformation.
She creates transformational healing journey's for groups and individuals, calling upon her innate wisdom and intuition she uses dance/movement, breath, shamanism, faerie magick, meditation, massage and yoga.
Amanda's old circle in Cornwall will now be run by Tony Bevington - details to follow...
Amanda Shell-Phillips
Venue: Centre For Peaceful, Restoration, Recovery and Recuperation. Ranscombe Manor, Kingsbridge, Devon, TQ7 2DP
Tel: 07835 447167
E-mail: